certificates
All goods produced by Tirotex are made of 100% cotton and eco-friendly auxiliary materials. Application of the latest technologies and modern materials, dyestuffs and chemical products manufactured by the leading European manufacturers allows us to preserve the best properties of pure cotton, as evidenced by certificates granted by the top worldwide institutes.
QUALITY MANAGEMENT SYSTEM CERTIFICATION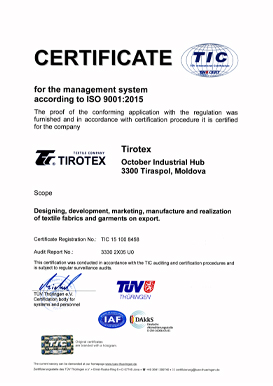 Up-to-date quality management system is a philosophy of corporate governance, and not just organizational and technical system or a set of interrelated management techniques.
The story of the International management system certification begins in 1987, when ISO (International Organization for Standartization) issued and introduced ISO-9000 standards, which were applied not to products, but to fundamentally new subject of standartization – the systems of companies' management.
The key pillar of ISO 9001:2008 is a number of principles of quality management, including but not limited to the attention given to consumers, motivation and involvement of executives, process approach and continuous development and humanization. Application of ISO 9001:2008 guarantees that consumers will have both goods and services of consistently high quality.
TUV CERT is an internationally recognized certification body located in Germany. It is one of the leading major worldwide certification systems, a member of the Independent International Organization for Certification. Obtaining a certificate in TUV system is a universally acknowledged way to confirm the quality of goods at international scale.
Certificates issued by TÜV Thüringen enjoy the confidence at the international market, and are an effective marketing tool and documentary proof of product quality. These certificates give an opportunity to introduce competitive produce to new sales markets and establish new business relations.
OEKO-TEX® Standard 100: A SIGN OF CONFIDENCE IN TEXTILES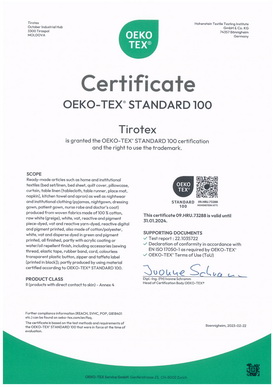 Confidence in Textiles – that has been the motto of the independent testing for harmful substances according to OEKO-TEX&reg Standard 100 for textile products of all types which pose no risk whatsoever to health since 1992. Our needs in state-of-the-art textile articles cannot is impossible to satisfied without using specific chemical products. Fancy shades, easy care, durability and many other functional properties of textiles are in great demand nowadays, and in some cases (for example, production of workwear) are a must.
OEKO-TEX&reg Standard 100 is an independent system of testing and certification of raw materials, intermediate and finished products at all production stages.
The responsibility for the independent tests for harmful substances according to Oeko-Tex&reg Standard 100 lies with the International Oeko-Tex&reg Association, a union of 16 renowned institutes for textile research and testing in Europe and Japan, with representations and contact offices in over 60 countries worldwide.
Tirotex Textile Company is certified to OEKO-TEX&reg Standard 100 on Product Class I and Product Class II from 4 existing product classes of this Standard:
Product Class I: textiles for babies and small children up to the age of three, e.g. underwear, romper suits, bed linen, bedding, soft toys etc.
Product Class II: textiles which, when used as intended, have a large part of their surface in direct contact with the skin, e.g. underwear, bed linen, terry cloth items, shirts, blouses etc.
Product Class III: textiles which, when used as intended, have no or only a little part of their surface in direct contact with the skin, e.g. jackets, coats, facing materials etc.
Product Class IV: furnishing materials for decorative purposes such as table linen and curtains, but also textile wall and floor coverings etc.
One of the most important conditions of OEKO-TEX® Standard 100 certification is that all components of the tested item must be in compliance with the required criteria, e.g. sewing threads, all applications, prints and other accessories like buttons, zips, press-buttons etc.
ANNUAL INTERNATIONAL SOCIAL AUDITS

Notice: Undefined variable: p_audit in /usr/local/www/apache24/data/sert.php on line 133