certificates
All products manufactured by Tirotex are made from 100% cotton using ecological products. The use of the latest processing technologies and the use of modern materials, dyes and chemical materials from leading European manufacturers make it possible to preserve all the best properties of natural cotton, which is confirmed by certificates from leading global institutions.
CERTIFICATION OF QUALITY MANAGEMENT SYSTEMS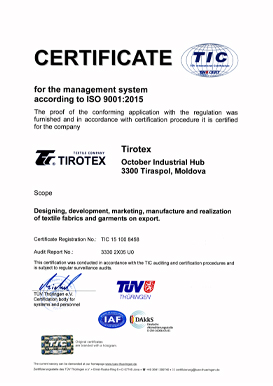 Certificates issued by the certification body TÜV CERT Thüringen enjoy high confidence in the international market, are an effective marketing tool and documentary evidence of product quality stability, and make it possible to promote competitive products to new sales markets, helping to find new business partners.
The internationally recognized certification body TÜV CERT Thüringen is located in Germany. It is one of the leading and largest certification institutes in the world, a member of the Independent International Organization for Certification, which since 1998 has been issuing to Tirotex a certificate for the Quality Management System in accordance with the requirements of the International Standard ISO 9001 according to versions 1994, 2000 and 2008.
In June 2018, based on the results of the audit conducted by TÜV CERT Thüringen, Tirotex switched to a new version of the ISO 9001 standard according to the 2015 version.
In November 2019, the enterprise underwent a recertification audit, which resulted in an ISO 9001-2015 certificate issued for 3 years until December 2022.
The Quality Management System of Tirotex is customer-oriented and takes into account the interested of all involved parties. It is built on the principle of management of interrelated processes and assessment of risks and opportunities for the purpose of continuous improvement of the Quality System.
The scope of application of the Quality Management System of Tirotex covers the design, development, production, marketing and sale of textile fabrics and garments for export.
OEKO-TEX® Standard 100: A SIGN OF CONFIDENCE IN TEXTILES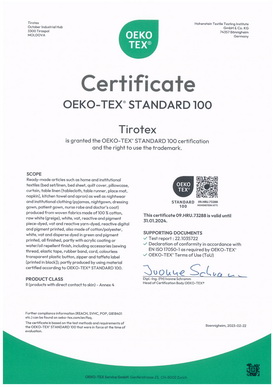 "Trust in textiles" - under this slogan, since 1992, the system of independent tests for the content of harmful substances according to the OEKO-TEX&reg Standard 100 guarantees the safety of textile products for health.
OEKO-TEX&reg Standard 100 is an independent verification and certification system for raw materials, intermediate and final textile products at all stages of processing.
OEKO-TEX&reg Standard 100 is independently tested for harmful substances by the International OEKO-TEX&reg Association, a union of fifteen renowned textile research and control institutes in Europe and Japan, with offices and advisory offices in more than 60 countries.
TIROTEX Textile Company is certified according to Product Class I and Class II from the existing four classes in this standard:
Product Class I: textiles for babies and children under 3 years of age (clothing, soft toys, bedding and accessories, etc.)
Product Class II: textiles in direct contact with the skin (underwear, bedding, T-shirts, etc.)
A particularly important condition for the certification of textile products according to OEKO-TEX® Standard 100 is that without exception, all components of one product must meet the required criteria. For example, in addition to the main fabric, also sewing threads, inserts, padding, etc must meet the above mentioned standards.
SOCIAL AUDITS OF TIROTEX COMPANY
For the period from 2007 up to the present day, Tirotex has undergone social audits conducted by the international auditors in compliance with the requirements of BSCI Code of Conduct, WALT DISNEY COMPANY`s Code of Conduct for Manufacturers, NBC Universal`s Code of Conduct. The results of annual audits are positive.
Tirotex meets all standards on the labour legislation, labour remuneration and labour safety laws, safety regulations and fire safety regulations. All social issues concerning the working conditions, labour remuneration and holidays have been settled.
In 2019, Tirotex became a member of the international cotton improvement organization – BCI (BETTER COTTON INITIATIVE). BCI guarantees control over the use of organic cotton at all stages of textile production – from cotton growing to its processing into a ready-made product.
In 2020, for the first time, Tirotex successfully passed a social audit by the international auditor to confirm its compliance with the requirements of the Code of Conduct for Manufacturers of NBC Universal.