company news
THE AMBASSADOR OF THE RUSSIAN FEDERATION VISITED TIROTEX
10 March 2016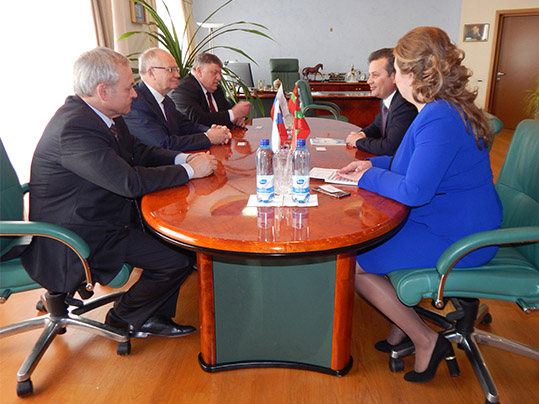 Public hearings under the aegis of the Business and Industry Parliamentary Committee of PMR, dedicated to the results of the visit of Supreme Soviet's delegation to Moscow, have been held recently. According to the Press Service of the Supreme Soviet, the participants of the event were welcomed by the parliamentary speaker, Vadim Krasnoselskiy, who informed mass media about the purpose and results of their official visit. «The Russian Federation is interested in using economic potential of our republic», Vadim Krasnoselskiy said. The moderator of the hearings, Victor Gusun, who was actively involved into the work of the Business and Industry Parliamentary Committee, also spoke of Russia as the main strategic partner, «We understand that it would be wrong to expect that one can eliminate all barriers in the shake of a hand, and all the roads to Russian market can become open for us immediately. But we must use the opportunities given to us.
Such an opportunity was given already on 10 March. The Ambassador of the Russian Federation in Moldova, Farit Mukhametshin, paid a one-day visit to Tiraspol. The purpose of his visit to our republic was a wish to get to know better our social and economic situation, to get information necessary for enhancing mutually beneficial contacts in different spheres. Mr. Ambassador visited the largest textile enterprise of our region – TIROTEX CJSC.
Farit Mukhametshin got acquainted with the manufacturing process from the beginning to the end of the technological chain of our textile complex. The Director General of TIROTEX, who is also the a member of the Supreme Soviet of PMR, Andrey Mezhinskiy, arranged an excursion to all production facilities: spinning, weaving, finishing and garment production. In the course of their meeting, the Ambassador and company management discussed the possibility of realization of mutual programs within a framework of bilateral economic cooperation.
The words of Andrey Mezhinskiy are also a witness of a positive character of their meeting. «It will obviously help us to go forward and find new sales markets. The capacities of TIROTEX are adopted for production of goods for each country where we have our partners, and consider a specific character of their orders. The production range, which is in demand in Russia, is a bit different from the European one, but our technologies and production capacities allow us to satisfy the requirements of Russian customers too. Already today we are ready to increase the volume of production tenfold.» He said.
Summarizing the results of his visit to TIROTEX, the Ambassador of the Russian Federation in Moldova, Mr.Farit Mukhametshin, said that he would tell about the impressions he had got when visiting our company to senior executives and promised to render an extensive support for further development of our cooperation.