company news
TIRASPOL PLAYS HOST TO A DELEGATION FROM THE RUSSIAN FEDERATION
29 April 2016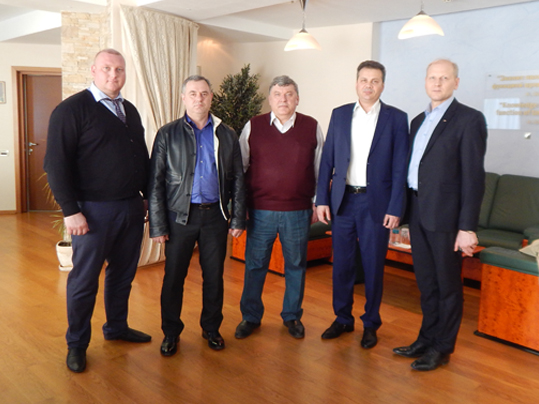 A delegation from the Russian Federation visited Tiraspol. The visit was arranged within the framework of cooperation and business contacts established with Russian officials, with whom a delegation from the Supreme Soviet of PMR, headed by the speaker Vadim Krasnoselskiy, had met in Moscow two months ago.
The deputy of the Supreme Soviet of PMR, Andrey Mezhinskiy, received the delegation from the Russian Federation. It was headed by the deputy of the city parliament of Ivanovo, Shiganov Maxim Evgenievich, and the plenipotentiary representative of the Chechen Republic in the Russian Federation Central Federal District, Khonarikov Ruslan Abdulayevich. The parties discussed a geopolitical situation in the region. Tightening of social, economic, political, and cultural links between Russia and PMR was also a matter of discussion. It is important to note the positivity of statements received from Maxim Shiganov, who said about the necessity for activation of interparliamentary cooperation between Russia and PMR. Both bilateral and regional levels of cooperation between Russia and Pridnestrovie were discussed at the meeting.
The participants exchanged their opinions on the current situation in Pridnestrovie, the paths of Republic's further development, and discussed a possibility of mutual realization of a number of projects in different fields.
It is worth mentioning that the participants' focus of interests appeared to be much wider, and it was not limited with discussion of only legislative issues. Let us remind that the deputy of the Supreme Soviet, Andrey Mezhinskiy, is also the director general of Tirotex CJSC, the biggest textile company in the region. And the deputy of the city parliament of Ivanovo, Maxim Shiganov, is the director of a textile company in Ivanovo. It was proposed to arrange meetings with representatives of textile industry of the Ivanovo region in the future. Andrey Mezhinskiy voiced a hope for further successful cooperation in the best mutual interests of factories and invited the Heads of industry organizations of the Ivanovo region to visit Tirotex for sharing their experiences.
Andrey Mezhinskiy thanked all guests for their visit and an interest taken to the situation in the Republic. He also expressed hope for further mutual and fruitful cooperation enhanced with real steps on implementing mutual projects. The deputy wished all members of the delegation all the success in overwhelming all challenges the Russian Federation faces, and, first of all, in ensuring a stable domestic policy.