company news
TRIBUTE AND GRATITUDE TO WORLD WAR II VETERANS
09 May 2016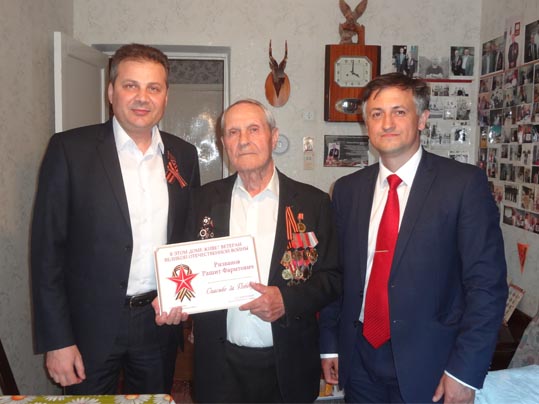 Top managers of Tirotex visit veterans every year shortly before the Victory Day. They come to present flowers and gifts and say "THANK YOU" for peaceful skies and for giving future generations a chance to live.
This year, the general director of Tirotex company and a deputy of the Supreme Soviet of PMR, Andrey Mezhinskiy, and his colleagues congratulated people being a pride of district 42. Grosberg Lidiya Alekseevna, Duman Vladimir Nikiforovich, Moskovchenko Tamara Vasilievna, Muzhetskiy Pavel Vasilievich, Popov Petr Dmitrievich, Rizvanov Rashit Faritovich, Tabenskiy Vladimir Ivanovich, Suchkova Olga Mikhailovna, Bazhenov Mikhail Nikolayevich, Kolomeichenko Mikhail Anatolievich, Gerasimenko Vasiliy Vasilievich, Lanovets Petr Pavlovich are the real heroes of our time. Each of these veterans was visited by Andrey Mezhinskiy and the deputies of the city council of Tiraspol, who are not only the prop and stay of people who live in this district, but also the core of Tirotex, in particular: the Deputy Director of the Finishing Factory, Andrey Volkovich, the Deputy Director General on Strategy, Sergey Obolonik; the Assistant to General Director, Pavel Solodkiy.
The deputies presented flowers and gift sets with best wishes of happiness, welfare and of course the main thing – health and many happy returns of the day. People's deputies attach particular importance to this festival. The sincere words of the parliamentarian, Andrey Mezhinskiy, prove it: «Saying the least of it, it is the most important and responsible even for us. We join our efforts to tribute to the memory of heroes and victors. The most important thing is not to forget any of them and remain patriots every day, but not only on 9 May!»
Shortly before his visit, name plates with words «A veteran lives here». were mounted on the doors of all buildings where World War II veterans live. This campaign is aimed to hold on the past and make people proud not only of their relatives, but also those who live in these houses. Thanks to such name plates every passerby will know and be proud of the World War II veterans, living here; those who fought to bring victory and peace to us.