company news
TIROTEX WINS A «GODDESS OF QUALITY» AWARD
08 June 2016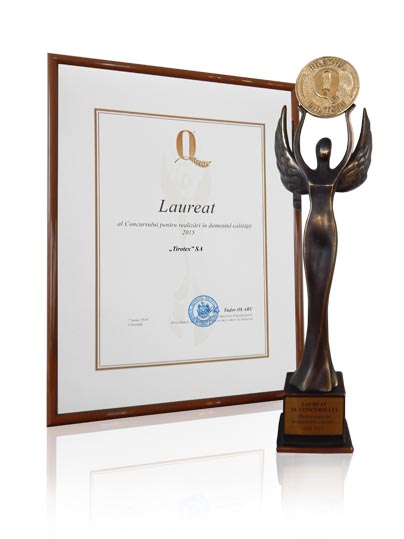 Tirotex was declared the winner of the prestigious competition. This time the Transnistrian textile company has become the winner in "Prize for achievements in the field of quality" nomination.
The General Director of Tirotex, Andrey Mezhinskiy, attended the award ceremony in Chisinau. In the presence of foreign ambassadors and members of diplomatic missions, Mr.Mezhinskiy was awarded the Grand Prix – an exclusive statuette "The Goddess of Quality".
Participation in the competition for the award for achievements in the field of quality gives producers and service providers an excellent opportunity to be assessed by independent experts and consumers, and, on the basis of these results, - to improve and promote their brand. Evaluation of the contestants is performed in comparison with the criteria of the premium model, harmonized with the Excellence model of the European Foundation for Quality Management, and is based on an independent opinion of each member of the jury.
The General Director of Tirotex, Andrey Mezhinskiy, thanked for the award and said: "It is always a pleasure to receive the high appreciation of the competent independent jury. However, I want to note that for this award is the award for the joint efforts of many thousands of our workers. Hard work, careful attitude to work, mutual understanding in the team are the components of the success of professionals working in the textile industry of Transnistria. In this regard, I express my deep appreciation to the staff of Tirotex for their conscientious attitude to work and high professionalism. I wish them all further success in their work and continuous development!"