company news
ESTABLISHMENT OF A NEW REPRESENTATIVE OFFICE OF TIROTEX IN EUROPE.
27 June 2016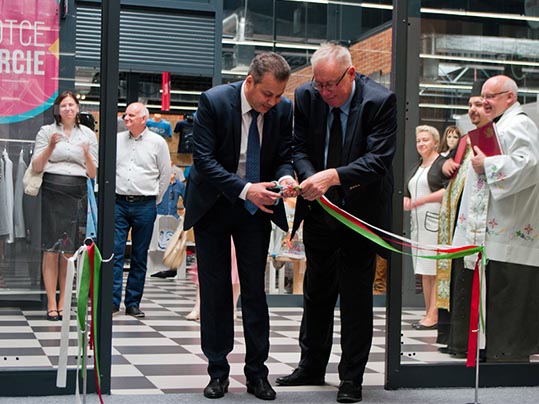 On 17 June the General Director of TIROTEX Textile Company, Andrey Mezhinskiy, and the Deputy Director General on Strategy, Sergey Obolonik, took part in a ceremonial opening of TIROTEX show-room in Lodz, a Polish town. This even took place with direct involvement of the Polish partner – TEX PRIM company – represented by its General Director, Mr.Vitold Pawlak.
A thorough preparation work of both parties preceded the event. The leaders of the companies came up with a complex solution for promotion of goods of the exporter from Pridnestrovie in the course of long negotiations. It is important to notice that about 70% of all products of TIROTEX are supplied to European countries. But they were thinly represented in the Polish market. Therefore it was decided to develop a strategy of moving to a new sales level.
The Pridnestrovian exporter, together with TEX-PRIM company, established its representative office in the Ptak business center. It is the biggest Poland and one of the biggest Central Eastern European textile trade platforms. The Ptak is annually visited by many traders from Czech Republic, Slovakia, Hungary, Bulgaria, Germany, Russia, Belorussia, Ukraine and Lithuania.
During the opening ceremony the main technologist of TEX-PRIM gave a speech: «GRAPIL company from Poland was testing the samples of fabrics made by TIROTEX for two weeks in their laboratory. The specialists of the laboratory tested the strength of fabrics, measured the shrinkage percentage, washed samples several times under harsh conditions at a temperature exceeding 90 C°. Having confirmed a high quality of material, the main technologist of GRAPIL admitted that they had never tested samples of so high quality.»
When giving an interview to Polish television, Andrey Mezhinskiy disclosed the main secrets of high quality and the reason of popularity of the goods of the Pridnestrovian exporter: «All we do, we do with loving care. Our factory is a place where generations work. These textile dynasties convey their knowledge and skills from fathers to sons. Cherishing traditions and increasing their knowledge and experience, following the development of modern technologies, each worker puts his or her heart into the common cause.»