company news
EXCELLENT PRODUCT FOR THE RUSSIAN MARKET
23 августа 2016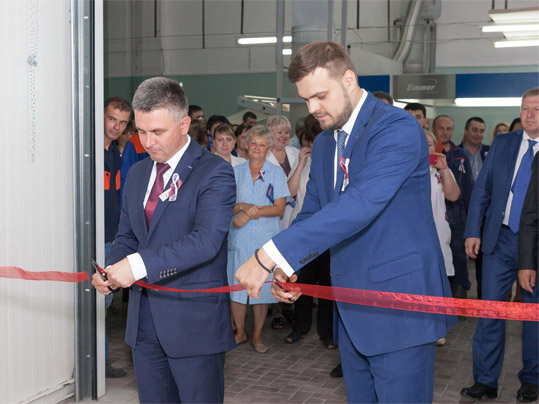 The flagship of the light industry of Transnistria, the largest textile company in South-Eastern Europe, once again accepted guests of honor. At the entrance of the enterprise deputies and candidates for the State Duma from "United Russia", Artem Turov, Alexei Silanov and Oleg Kankov, who arrived here accompanied by parliament speaker, Vadim Krasnoselsky, vice-speaker, Alexander Scherba, and deputy, Vadim Dhoni, were met by the General Director of Tirotex, Andrey Mezhinskiy.
The legislators of the Russian Federation and Transdniestria started talking about creating favourable conditions for increasing the volume of supplies of high-quality Transnistrian goods to Russian consumers yet during their visit to Tirotex stores, where one can find all the diversity of textile products. According to the head of Tirotex, Andrey Mezhinskiy, almost 40% of goods produced by Tiraspol go to Italy, about 10 - 15% are supplied to Germany. The goods of Tirotex are also sold in Poland (a new Trading Center has been opened there recently), in the Scandinavian countries and even in the USA. But the share of the Russian market is small due to double customs registration. But we are doing our best to establish cooperation with colleagues from Ivanovo, participating in specialized exhibitions held in Russia and presenting ourr products there."
It is remarkable that Tirotex supplies special clothes for healthcare industry of Western Europe. Medical clothes produced in Tiraspol are made of fabric impregnated with silver ions. However, the CEO of Tirotex, Andrey Mezhinskiy, announced plans to open a sales office in the Russian Federation.
Tirotex has been one of the largest taxpayers in PMR. In particular, as a results of 7-months-work, the company transferred 38 million rubles to budgets of various levels. The company employs 3 thousand people. The average wage per employee is $ 400, which is much higher than the average wage for the country.
During the visit to the factory the deputies of the Supreme Council and the members of the ruling Russian party "United Russia" were able to see that Tirotex follows the latest innovations and uses modern equipment and up-to-date technologies. The investor of Tirotex has invested tens of millions of dollars in technical modernization of Tirotex. During the visit to Tirotex the guests even witnessed the launch of a new digital printing REGGIANI machine.
The guests appreciated high quality of Tirotex produce. "All that we have seen here, is admirable. The produce of your company should be sold on the Russian market, it should reach the Russian consumers, no matter where they live. We will work on this together with the Transnistrian parliament. Such high-quality products will compete with any products supplied to Russia from other countries," - said Artem Turov.
During their visit to Tirotex Russian guests also used the opportunity to meet with potential voters, Transnistrians, who have Russian citizenship. It was agreed that they will come to polls on 18 September, 2016 to vote for the joint future of Russia and Pridnestrovie.
(Based on the PMR Supreme Council press service)