company news
EXPERT COMMITTEE OF PRIDNESTROVIAN QUALITY COMPETITION-2016 VISITED TIROTEX
02 December 2016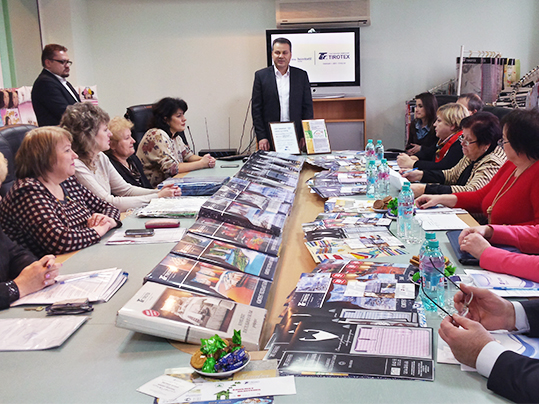 The Chamber of Commerce and Industry of PMR together with the Ministry of Economic Development, the Ministry of Agriculture and Environmental Resources, the Ministry of Regional Development, public administrations of towns and regions, and certifying bodies hold «Pridnestrovian Quality» national contest every year.
The contest allows consumers to learn fair and non-biased information from a source of expertise about the quality of goods, the most competitive offers in the market. It contributes to promotion of the most quality domestic goods in home and foreign markets. Those manufacturers who took part in this competition once are ready to prove the stability of quality of their produce every year and become permanent participants of the contest.
The contest has become a traditional event for many participants. Local manufacturers look forward to it impatiently from year to year. There is a variety of companies that pick up award of «Pridnestrovian Quality» every year, including Tirotex.
It was the 14th contest, and Tirotex, staking on its stable quality, not only takes part in it annually, but every time is recognized as a leader among domestic manufacturers.
The General Director of Tirotex, Andrey Mezhinskiy, open the meeting with a complimentary speech, in which he made a point that this even is important for the company itself: «Thank you for the interest the organizers of «Pridnestrovian Quality» take every year to the produce of our factory. I hope new articles of Tirotex will not leave you indifferent this year, and will be given a high rating. I would like to thank you for high and professional level of organization and holding of the contest and express conviction that the «Pridnestrovian Quality» contest will always remain operative and important for the Pridnestrovian Moldavian Republic.»
As usual, the committee was proposed to evaluate the quality of bed linen and table linen. Siz collections of bed linen included various pieces of premium class, such as «Ceremony», «Wedding», new 3D digital print, gift bed linen with embroidery, «Men's Club», and collection of baby bed linen «Owlet». Table linen included fist sets and collections of table-cloths with innovative 3D digital printed designs and water-repellent finishing, Teflon-like coating. Fabric with such finishing does not absorb liquids, repels dirt, but remain «breathing». The secret of this finishing is that each fiber is protected with an invisible shell. It does not allow natural cotton fiber to absorb liquids and attract particles of dust and dirt.
The Vice-president of the Chamber of Commerce and Industry of PMR, Vasiliy Kozhan, summarized the results of work of the Expert Committee and shared his impressions: «First of all, I would like to emphasise a high level of organization of this event by the specialists of your factory. Thanks to your presentation, it took us just half an hour to get acquainted with the whole cycle of production – from cotton processing up to ready-made items. Earlier all processes could be demonstrated only during a many-hours tour around all the sections and departments of this huge factory. You have presented wonderful samples of textile articles for assessment. But, as to me, I personally, as a representative of menfolk, was impressed with «Men's Club» collection. I will obviously recommend my grandson to pay attention to this collection and learn more about this assortment. Tirotex is a unique company, it is a good example to follow. I think all manufacturers, both small, medium-sizes and big, should look up to Tirotex. The government should not only support such a company, but also be proud of the fact that we have such a company in our republic. I'd like to remind that the contest has been held for the 14th time, and Tirotex has never missed out on the chance to participate in it, always winning prizes in various categories. The most notable thing is that Tirotex was the first company awarded with «Republic's Pride» within the framework of this contest. And so it is!»
The samples presented for assessment of quality were assessed by the members of the Expert Committee, and the Chief of Quality Control Department of Tirotex, Natalia Markova, comments the results: «All textile articles demonstrated at the contest have been highly appreciated by the qualified committee. I think that participation of our company in such contests is not only a matter of reputation. «Pridnestrovian Quality» encourages Pridnestrovian manufacturers to improve the quality of their produce and allows entering new markets thanks to rationalization of production. Consumers say that a competitive spirit results in a positive competition in the struggle for the right to be the best.»