company news
THE CEREMONY OF AWARDING THE WINNERS OF «TRANSNISTRIAN QUALITY 2016»
27 December 2016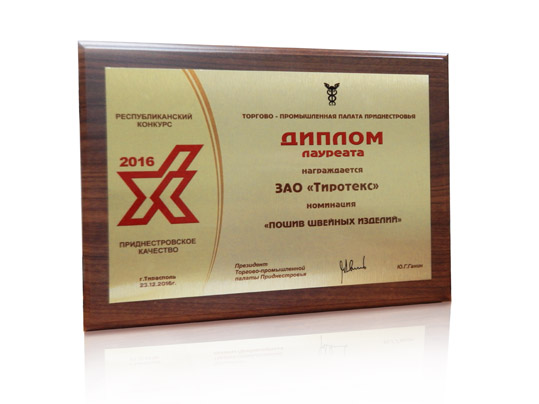 The industrial potential of small Pridnestrovie has been a matter of discussion in the international community for a long time. Thanks to the professionalism of the management, many enterprises, being leaders in their industries, have managed to survive and adapt to the challenging market conditions. Nowadays the membership base of the Chamber of Commerce and Industry of PMR unites 181 organization from different spheres. In this regard, the Chamber of Commerce and Industry of PMR holds an annual national competition «Transnistrian quality». This event promotes business development in the country, supports new trends and the development of local entrepreneurs, exporters, and contributes to the reputation of Pridnestrovie in the international community.
The popularity of this competition is growing every year. This time 51 Transnistrian enterprises took part in this festive event. The 14th awarding ceremony was held at the end of the year. Being one of 8 enterprises representing light industry sector, TIROTEX has won in the category «READY-MADE GARMENTS» for the 14th time.
The ceremony of awarding the winners is not only the way to sum up the results and make plans for the future, but also one more opportunity to hear congratulatory speeches from friends and colleagues. The General Director of TIROTEX, Andrey Mezhinskiy, on behalf of all TIROTEX staff, thanked the committee for high appreciation of the quality of TIROTEX' product: «Participation in «Transnistrian quality» competition gives our company a significant incentive for the development of production, introduction of new technologies and developments. However, the main success of the business award of the republic would have been impossible without the great work done by the leadership of the Chamber of Commerce and Industry, experts and executive management of this contest. Thank you for your attention, for the high professional level of organization of the contest. I express my firm belief that «Transnistrian quality» will always remain essential and important the Pridnestrovian Moldavian Republic».