company news
HEIMTEXTIL - DISCOVERY OF NEW PROSPECTS!
16 January 2017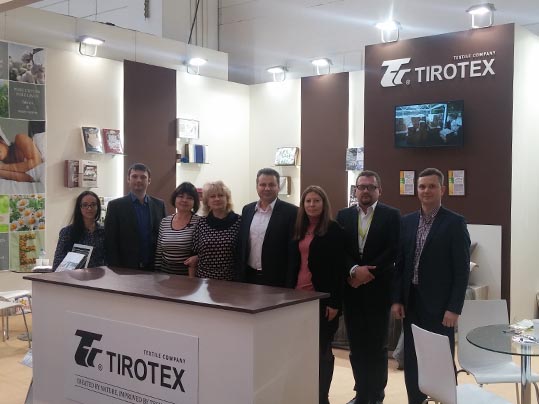 The other day one of the key events in the international textile industry came to an end - Heimtextil in Germany. "Tirotex" added this effective business platform to its armouryhas long ago for rapid advancement of its high-quality products. Therefore the presentation of goods at the international exhibition venue in Frankfurt announces the start of business year for Tirotex.
Application of modern digital technology and new methods of final finishing, offering now more opportunities for a diverse range of products, have become possible thanks to successful implementation of innovative equipment and methods of work of weaving and finishing departments in the past year. The presentation of 3D printing technology (Reggiani machine) scored a great success. In just a few months after launching the ReNOIR digital printing machine the collection of own Tirotex' designs has been added to with almost 200 realistic three-dimensional designs. Besides this Tirotex presented a wide range of new home textile items. Each collection is composed of several groups of tissues and has been designed to create the conceptual ensemble.
Longstanding partners of Tirotex know that Tirotex likes trailblazing experiments and innovative ideas. At this time, the exposure did not disappoint the guests – the visitors showed a special interest for products made of linen and a special finishing of fabrics (silk protein, aloe vera, vitamin finishing, finishing with silver ions). The mission of the exporter from Pridnestrovie was to introduce ready-made textile articles meeting the highest quality standards.
Commenting on the results of participation in the exhibition, the CEO of Tirotex, Andrey Mezhinskiy, said: «Our company is a permanent participant of the exhibition in Frankfurt. Overall impression is very positive. I want to note the high level of its organization and the entry list - the largest companies of Europe, Asia, the CIS and the Western World. We presented the new collection, which has become a success among the visitors. Our booth was visited by more than one hundred of heads of the largest companies in the textile sector, and about fifty of them were representatives of companies, whom we contacted for the first time. They were companies from Baltic States and Europe, who previously collaborated with our competitors. Taking into account the fact that Heimtextil is visited by many major customers, the interest shown by our guests has opened up new horizons and opportunities for us. Participation in this exhibition is a serious investment in the future of our company.
We estimate our participation in the exhibition positive: we've had a lot of successful contacts, and, on return, we will continue our communication with our potential clients. Judging by the feedback, many of those, for whom it was the first taste of Tirotex` products, should become our partners in the near future.
I would like to thank Heimtextil team for the excellent organization of the exhibition and an extensive and interesting business program.»