company news
NEW TIROTEX SHOP OPENING CEREMONY
27 January 2017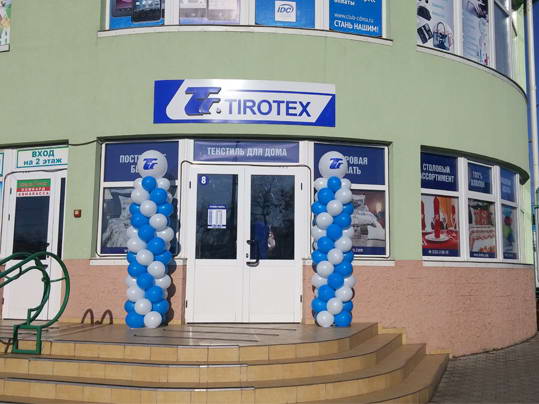 It was the 12th shop opened in the capital and the 18th shop opened in the Republic. A ceremonial opening is always an emotional and exceptionally pleasant event! We are happy that Tirotex shops are not only sales outlets; they are somewhat f a tool to form a culture of retail business satisfying customers' demand.
After a short official part, the guests were able to evaluate the assortment of bed linen and table linen to the full extent. Hundreds of articles and an individual approach to each customer! Tirotex, as usual, surprised customers with a wide range of textile items.
Leonid Vishnyakov, buyer: "The assortment is as outstanding as in all other Tirotex chain stores. I am here to buy new kitchen towels for my home."
Valeriya Bragina, buyer: "Tirotex chain stores are a paradise for natural high quality textile lovers. You can find almost everything you need on the shelves of the store: table-cloths of all possible colours and dimensions. And the main thing is a great choice of bed linen. Everybody can find a design and style to his or her liking."
However, the quality of textile and services can be evaluated not only by the residents of Tiraspol, but also by the guests, because this shop has been opened in the very heart of Tiraspol, in the new building of "Zeleny Rynok", Karla Libknehta str, 226, "Yuzhny" bulding, store № 8.
The doors of our new shop are open for you Tuesday to Thursday from 8-00 till 13-00; Wednesday, Friday and Saturday from 8-00 till 16-00 (lunch break from 13-00 till 13-30).
In case of any questions, please do not hesitate to contact our sales assistants, tel.: (533) 2-60-39
We hope Tirotex shop will become a favourite shop for our customers, where they can always buy a nice gift for themselves.
Welcome to our new shop!