company news
TIROTEX CONTINUES DEVELOPING THE LINE OF READY-MADE ARTICLES
05 April 2017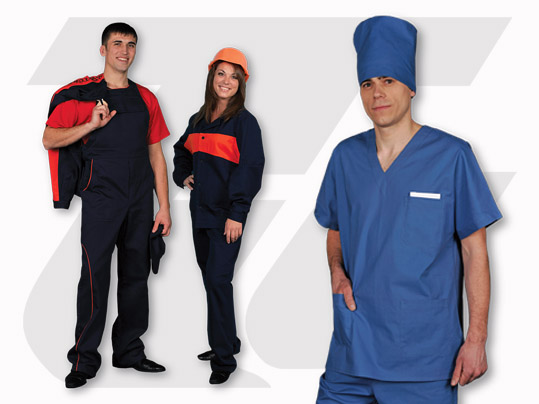 Tirotex is widely known in the international textile market as a manufacturer of bed and table linen. However, consumers from the domestic market are familiar with the excellent quality of ready-made cotton clothes. All three factories of the enterprise are involved into the process of production of these items: spinning-and-weaving, finishing and garment factory.
Initially, they focused on production of medical clothing, such as various medical gowns, suits for surgeons and patients. However, the assortment began to expand, and new orders for workwear appeared: chef's clothes, robes and suits for operating personnel, security personnel, workers of various industries, for those who like hunting and fishing and those who just love active holidays.
Those who have already evaluated the high quality of tailoring, appreciate the durability and excellent consumer properties of products made from natural cotton fiber, in contrast to less environmentally friendly and cheaper blended fabrics. Blended fabrics contain synthetic fibers generated from oil and coal by-products.
In any case, the overalls should be practical and comfortable, and the choice of material becomes a particularly relevant topic before the hottest time of the year. Fabric must be breathable, it should absorb moisture. Probably, skeptics will argue that clothes made from natural cotton have low resistance to mechanical action. But the technologists of Tirotex solved this problem long time ago, when they chose fabric imitating denim. Fabric with diagonal interweaving is very dense, but at the same time it has no obstacles for air penetration and heat exchange.
So, when the client has decided on the choice of the fabric, it' time to think about the longevity of her color, because when wearing laundry, she must not only withstand the high temperature regime, but also exposure to chlorine, as this is a prerequisite for the operation of medical clothing. Chief technologist of JSC "Tirotex" Vladislav Politov notes: "For such smoothly dyed fabrics, indanthrene dyes are used, allowing you to wash clothes at temperatures above 90 degrees. These pigments also have chlorine resistance. In general, special types of final finishes have been developed and successfully used for special clothing, including: a low-freshened finish that allows easier care of clothes after washing, low-shrinkage and mud, oil and water repellent finish, which prevents shrinkage of the product after washing. The latest innovation, which aroused special interest among consumers, is the final finish with antibacterial coating. Silver ions in the impregnated fiber destroy the bacteria, destroying their cellular system, providing maximum protection of the workforce from the effects of harmful microorganisms."
When the customer has thoroughly studied the material from which the production of shoulder products is planned, the question arises of developing models and the quality of their tailoring. This question is answered by Svetlana Zolotaya, deputy director of the sewing production of ZAO "Tiroteks": "The main criterion for technologists who construct all kinds of overalls is the requirement not to give up elegance, even in the conditions of production. The developed models should combine not only convenience and quality, but also style. This is the work of the designers and technologists of the group preparing the garments. As for the introduction of the collection into mass production, it is necessary to emphasize that since the workshops are equipped with modern sophisticated equipment, only specially trained personnel work with this product line. As for the full production cycle, we can safely say that such a narrowly focused specialized equipment in the region is not represented in any enterprise. Cutting of the shoulder range, which includes medical, work and home clothes, is produced on the automatic cutting head, which allows to ensure a high cut quality and productivity. Special clothes are used for sewing workwear: two-needle five-thread Japanese machines Yamato and Juki for grinding the weld seams, four-needle Kansay machines for the preparation of straps, belts and cuffs with simultaneous stitching, two-needle machines for the preparation of loafers, Automatic billet machines, automatic pockets for the preparation and spreading of patch pockets of the Italian company Mayca, the machine for folding Maximat products of the Swedish company AKAB-jensen and universal sewing machines of the famous Japanese manufacturer Brother. At the sewing production of JSC "Tirotex" there are also specialized threads for sewing knitwear, equipped with modern equipment. As decorative trim of knitwear, a decorative seam "krosh" and binding of edges, embroidery with automatic machines of the Japanese firm Tajima and German firm ZSK "are used.
Irina Burlachenko, director of clothing production at Tirotex, is sure: "Constantly studying the tastes and preferences of our consumers, designers of our company successfully combine practicality and comfort with elegance and unique style when creating every element of clothing. Numerous customers of domestic and foreign markets are guided by these criteria when choosing a supplier-manufacturer. Our customers from Italy are the largest medical corporations that provide the needs of all medical institutions in the country, and from Transnistria they are successful enterprises that purchase clothing for staff. Well, and of course, we constantly meet our own needs, otshivaya clothing for employees of Tirotex." For example, in the first quarter of this year, seamstresses issued fire-fighting clothing for their own service (SOIPPB), cook clothes for food and nutrition management personnel (UOPP), laboratory staff, as well as for workers in PTP and TP "Bendery silk" - total 194 sets of clothes were sewn. For sale in the retail chain of the shopping center Tirotex, 1604 sets of shoulder range were produced. For customers of the domestic market, which include CJSC "Tipar", CJSC "Tiraspol Bread Factory", brewery and stores of the company "Sheriff", 15734 sets of clothes have already been sewn. And for export was shipped 20 658 units of overalls. Thus, according to the most conservative estimates for 3 months, 2 brigades of 20 people each working in two shifts have stripped 37547 sets of clothes. I want to note that this is not the limit of our capabilities. Last year, the Bender printing house Polygraphist, the Republican Party Renewal, the medical college, the BCCMiR (mother and child center of Bendery), the Center for Maternal and Child Tiraspol, the Center for Hygiene and Epidemiology, the ambulance Assistance, Sanctuary, RRC, Medin Medical Center, Bendery city hospital, Druzhba hotel, KVINT, Sheriff Football Academy and city club. In total, about 85 thousand pieces of clothing were produced by seamstresses in 2016. The well-established technological process of production, modern equipment and technologies allow "Tirotex" to carry out high-quality projects qualitatively, because when developing collections of clothing, the sewing industry specialists are pushing from the client's needs and are able to create unique and high-quality products."