company news
INTERNATIONAL TRADE FAIR FOR HOME TEXTILES HEIMTEXTIL RUSSIA 2017
01 September 2017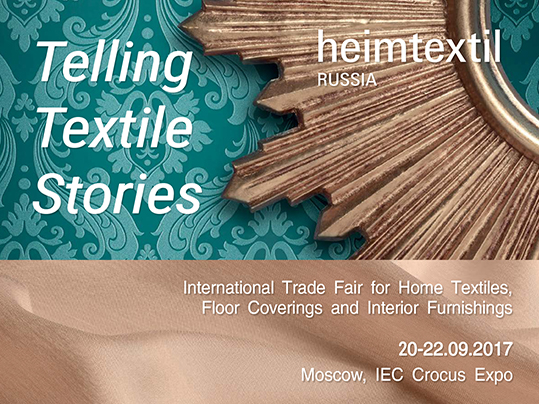 Textile company Tirotex is pleased to invite you to its booth at the International Trade Fair of Home Textiles, Floor Coverings and Interior Furnishings HEIMTEXTIL RUSSIA 2017, which will take place from 20th to 22nd of September in IEC Crocus Expo, Moscow.
Exhibition booth (C-60) will be located in the 1st Pavilion, 3rd Hall.
You will be introduced to the traditional assortment of our company – bed-linen, table-linen of pure cotton as well as to the latest creations of Tirotex: new fabric structures of home-, hotel- and table assortment, digital printing, flax production, health-improving and multivitamin finishing.
We will be very glad to see you as one of our guests and we hope that this visit will be of great use.
We hope to see you at Heimtextil Russia 2017!
HEIMTEXTIL RUSSIA PROFILE
International Trade Fair for Home Textiles, Floor Coverings and Interior Furnishings Heimtextil Russia takes place in Moscow in the end of September on an annual basis and is continuation of good traditions of the famous Frankfurt trade fair Heimtextil, which first took place in 1971.
The leading players of the international textile business gather on the Russian textile Trade Fair №1 to present their best collections of fabrics and wall coverings, learn the latest trends in interior design, exchange experience and find new business partners.
Participants of Heimtextil Russia are manufacturers, wholesale and retail traders as well as designers, architects and representatives of contract business. Following the traditions of Heimtextil brand as a trendsetter in textile design, Heimtextil Russia is actively developing its creative component. The Fringe program with workshops of the famous European and Russian designers, support of the leading Russian Interior Design Media and creative cooperation with professional designers make Heimtextil Russia the main event in the field of textile and interior design in Russia.

To order free ticket for the exhibition go Heimtextil Russia 2017 for online registration and filling visitors form.