company news
TIROTEX CONQUERED A NEW PEAK
13 September 2017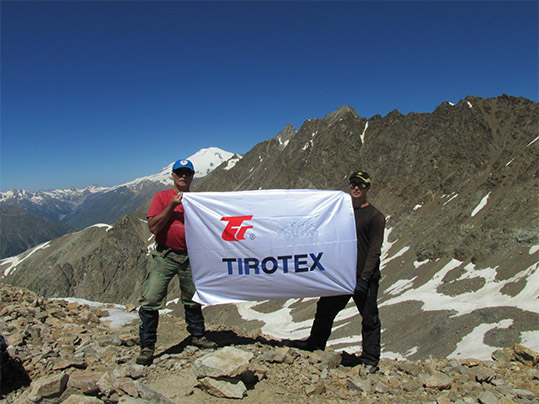 For the modern lifestyle it is very important to have self-control, energy, attention, as well as endurance and good physical shape. That's why our workers often complains of chronic fatigue they should struggle with because the more energy and vivacity you get throughout well-planned vacation the more efficient and healthy you will be. We are looking forward to go on vacation and dream of having a lot of fun. However usually we come back home and go to work tired. People often have clichéd vacation – they want to solve accumulated some personal problems or to finish the repair of their apartment. But you shouldn't exclude active vacations filled with events: you can do cycling on local club "Velopokatushki" (we'll let you in on a secret that most fast and furious members of this club are our workers that have already travelled not only around our country but around other countries as well) or you can climb mountains with members of our local mini-club. It's hard to believe but one should have a lot of energy to have a proper vacation. So, that's the theme of conversation with Alexander Dikusar – leading electronics engineer of Tirotex Company. It's not a secret for his colleagues that his passion is climbing inaccessible peaks of Caucasus Mountains.
- Alexander, summer is almost over. Our readers who are already acquainted to your hobby as well as your colleagues who know you personally are waiting impatiently to get a portion of impressions you received. What was your latest destination?
- To tell the truth, great plans of our small group changed radically due to objective circumstances. In spring we planned to repeat the famous Swiss campaign of the great commander Alexander Suvorov. He is considered to be the founder of Tiraspol because of his prescription was built Sredinnaya Fortress in 1792 on the left bank of the Dniester to strengthen Empire borders. And Tiraspol was walled up around this fortress. So 14th of October we'll celebrate 225th anniversary of our capital. We wanted to make a small contribution to this great day which is significant to our townspeople. However as we say – a person assumes but God disposes. We had had to adjust our plans in the last moment so we went to Caucasus. But we didn't regret. Our trek lasted 20 days from July 14 to August 5.
- How many people were in the group?
- When you face the choice how to plan a route through Caucasus Mountains you always want to boil the ocean. Therefor we formed 2 small groups with individual route for each group but with the same check-points. The senior group was led by the key man in orienteering Vladimir Vorobiev. There were 4 man 60-67 years old. The youth group of 5 people whose average age was 25-32 was led by my son Anatoly. That was not his first experience. Last year, he already took responsibility on the development of the route and successfully conducted the group through the mountains of the Central Caucasus.
- Why did you decide to split up?
- The youth always prefer more extreme activity. It also happened during our trip. If the group of old men were on more or less secure path, then for their group Anatoly developed more complex route including rock climbing and mountaineering.
- Was it dangerous?
- It's safe only to rest on a couch and watch TV. Hiking in the mountains is always connected with difficulties and deprivation. The main thing - do not forget about elementary security rules. But the mountains themselves can prepare traps for tourists. I can say that this time we didn't steer clear from surprises. When Anatoly was climbing up, one of the hooks of the safety line broke. He flew down about 30 meters. If the safety rope did not accidentally catch on to the stone, he would fly down twice more. In addition, during the fall, a large stone broke and caught his foot. I will not talk about feelings we experienced that moment, even an uninitiated person understands what we felt. One of the participants recklessly received minor leg injury, so he had to return to the camp and call rescue squad of the Ministry of Emergency Situations. As he was accompanied by another tourist, our team passed other points of the route without their participation. I will say right away, as later it turned out, everything was okay and everything is fine now. No harm done.
- Tell me about the most important thing. Where have you been? What passes have you passed? Which summits you conquered?
- From Mineral waters we reached the Ullu-Tau mountain camp, which is located in the Elbrus region. If Elbrus is rightly considered the father of the Caucasus, then looking at the picturesque place of the mountain gorge, it becomes clear why Ullu-Tau translates as "Mother mountain". The first few days we took to acclimatization and carrying out snow and ice training. Two days later we made a sortie to the Gumachi pass. And we climbed on the snowfield, and descended on another route, which ran through the glacier. The descent was no less tense and dangerous than the ascent - it was necessary to constantly screw the ice screws for insurance. After descent into the alpine camp and a short rest we went to the pass of Donkin. This is the famous place of the Central Caucasus located between the peaks of Jaylyk and Adyr-su with a beautiful view of the summit Snow dome. An incredible place that fascinates everyone. After a day on Donkin pass we went to the Lower, and then to the Upper Kichkidarskie spending the night. By the way, there our senior group left a small gift for young people - on the site, we hoisted the Transnistrian flag and hid 1 ruble of composite material and 5 candies - one for each participant of the youth team. The guys were delighted by that surprise. Then, according to the program, we had the Koyavganaush pass to north-eastern spur of the Main Caucasian Range. From there we moved to the alpine camp Jan-Tugan. This wonderful picturesque place is located near the pine forest. There are relatively comfortable conditions for tourists: round the clock there is electricity, in comparison to Ullu-Tau, where it was turned on only in the evenings. From there we continued our journey to the Azau valley. There is water, toilet, gas, and there is even a steam room. After two days of rest in this picturesque place, we went to Elbrus. We marched to the western summit at 1 am and by 8 o`clock in the morning were on top. The youth have bypassed us for half an hour. On that top 5642 meter height, I got up for the second time. The first climb was in 2009. This was the last the peak that we conquered in this hike.
- You said that you climbed Elbrus in the night. Why didn't you climb in the daytime when there is light?
- Firstly, the weather changes in the mountains after the afternoon, and not for the better. Climbing and descent become dangerous for human life. Secondly, under the scorching sun snow begins to melt and moving become harder. But during the night frost strikes and way becomes safe.
- You often tell about scenic landscape of those places. What can you tell about fauna?
- It was memorable in valley Azau we fed the squirrels just from our hands. And on the Koyavganaush pass we were visited by mountain goats.
- Do the places change somehow or they are held in a primal way during the 8 years you visit that place?
- It's kind of "painful" question. Unfortunately, man's interventions affect negatively on nature. The changes in climate are visible and they impact on a landscape. There is less snow that year than previous years and it's obvious. And I mentioned the following: on pass Gumachi there is a wonderful place for the rest – crystal clear lake. And this year it seemed to me that lake's area became less.
- And how have all the passed challenges affected on your physical form and health?
- Only in the most positive way. All of us have got rid of "extra ballast" – 5 kg on average and we have become tougher and stronger. Now we only have to keep the weight and not lose it again. Crossing difficult routes is hard and it becomes even harder to do it when you have heavy backpacks on your backs. When we flew to the Mineral Waters each of us had 23 kg of baggage and 10 kg hand luggage. It includes clothes, shoes, food, equipment (tents, pots, pressure cooker, ropes, carabineers, ice axes, first aid kit, etc.). Of course, before climbing we left some part of products in a camp, but however, everybody carried 25 kg.
- Your vacation has passed more than actively and judging by your interesting story and cheerful mood, you are happy. What would you wish our readers?
- Of course, everybody has his own plans for a rest. But the one that I had is the whole kaleidoscope of impressions, the sea of positive and a charge of cheerfulness for the whole year. Anyway, I'd love to say that active tourism is a great opportunity not only for spending unforgettable vacation, but seeing the variety of nature existing on our planet. However, it's better to see once, than to listen to hundred times.