news company
ABOUT NEW FORMATS AND MECHANISMS OF COOPERATION
12 December 2017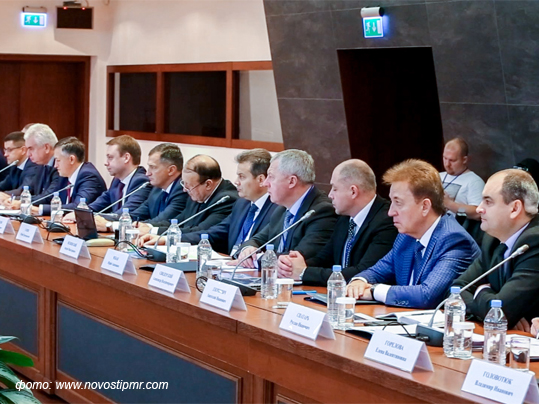 Barriers and problems of export of Transnistrian goods in the Russian direction were discussed at the forum "Business Russia". Representatives of Transnistrian and Russian companies, as well as heads of the executive and legislative branches of power, took part in the key event for the business community of the Russian Federation and Transnistria. Andrei Mezhinsky, General Director of the largest textile production association of Tirotex, expressed his point of view regarding the participation of experts at the round table.
- In the course of negotiations with representatives of the Business Russia association, as well as invited business community members, we discussed new formats and various regulatory mechanisms for preparing space for mutually beneficial cooperation. Thus, the Transnistrian textile company Tirotex acquired new high-speed pneumatic weaving looms from the world-famous Japanese manufacturer Toyota, producing a stern fabric up to a width of 237 cm. The rest of the finishing equipment is based on this assortment, where, as a result of the processing of the fabrics, a diverse assortment of finished fabric comes out with a width of 220 cm, which is popular in Russia. With this width sewing factories in the Russian Federation work afterwards. Unfortunately, due to the devaluation of the Russian ruble, the volume of supplies of Tirotex to this market in 2014-2016. significantly decreased. However, this year we managed to increase the volumes of deliveries twice, in comparison with the last year.
Andrey Mezhinskiy voiced a number of proposals for establishing mutually beneficial cooperation for the study of the Russian business community, related to the increase of supplies not only of textile but other products produced in Transnistria. In turn, the Russian side noted that they know about the production capacities, capabilities, and most importantly - the high quality of the products of Tirotex, and also promised to consider the submitted proposals and in the near future give an opinion on the issue studied.
Director General of Tirotex Textile Company expressed confidence that in the near future one can expect significant progress aimed for creating favorable conditions for mutually beneficial cooperation between the parties.