company news
"TIROTEX" OPENED ITS OWN EXPOSITION OF UNIQUE PRODUCTS IN GERMANY
12 January 2018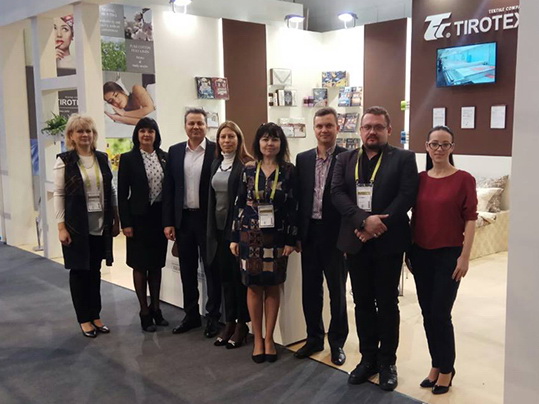 From 9 to 12 January, Frankfurt am Main hosted the international exhibition Heimtextil Frankfurt - 2018, which was attended by all the leading textile companies representing their product. For Tirotex, the largest exporter of light industry in Transnistria, participation in this important event was no exception.
As Andrey Mezhinskiy, General Director of Tirotex, notes: "At the international exhibition site in Germany, it was a great opportunity to meet with many potential and regular partners. Practice shows that our products are of interest to almost all companies located not only in a number of European countries, but also much further - in the countries of the East and in the West. We are impressed by the possibility of direct communication, since direct contact contributes to more effective cooperation, helps us to learn directly all the customer needs and discuss the possibility of joint cooperation. Therefore, we were satisfied with the result and already stipulated the terms of participation of the company "Tirotex" at the next exhibition in Frankfurt."
Deputy General Director Irina Chekan summed up the results of Tirotex`s participation in Germany: "The guests of our stand could see and realize the high level of quality of the products we are manufacturing. In turn, we were able to find an individual approach to each client, as well as demonstrate the loyalty and flexibility of our terms of cooperation. Participation in the exhibition provides additional opportunities to promote the product. The stand with our branded products was visited by a surprisingly large flow of visitors to the international exhibition Heimtextil Frankfurt - 2018".
The company "Tirotex" sincerely thanks its guests for the interest shown. We are glad to see our regular partners and are ready to cooperate on new types of textile products with both existing and new partners. With the expansion of the assortment, we discover new markets for ourselves and enter them at a qualitatively new level.