company news
TIROTEX HAS AGAIN BECOME A LAUREATE OF AN INTERNATIONAL COMPETITION!
20 August 2020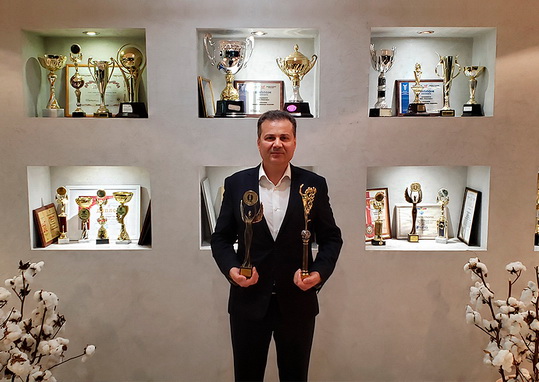 Following the results of the past year, the expert jury declared the Pridnestrovian exporter the winner of the National Prize.
The products of Tirotex company were highly appreciated by both experts and consumers. Therefore, for the first time, the organizing committee decided to name a Pridnestrovian manufacturer the winner in the most prestigious nomination of the "Reputation and Trust" competition. It should be noted that this nomination is not public, which means that the members of the business community could not participate. The highest professional award GRAND PRIX "Golden Mercury" was awarded to Tirotex solely by the decision of the organizing committee.
In addition, in the competition for the Prize for achievements in the field of product and service quality, our company was also awarded the highest professional GRAND PRIX award "The Goddess of Quality".
The palm in this competition has repeatedly belonged to Tirotex. So, in "Export" nomination, our enterprise was previously awarded the GRAND PRIX statuette "Golden Mercury" in 2007, 2017, and 2018. And for the high quality of its products, Tirotex was awarded an exclusive statuette "The Goddess of Quality" in 2015, 2016, 2017, and 2018.
СIt should be noted that a pandemic is not a reason to break tradition. This is exactly what the organizers of the competition decided, so this time the award ceremony was held in a new online format. At the official event, all contestants, jury members and organizers of the National Prize were able to meet remotely via the Internet.
Accepting congratulations to Tirotex, General Director Andrey Mezhinsky noted: "There is no difference how our company receives a high assessment of its activities: on the real stage or online. We can only state the fact that the jury members are still unanimous in their opinion: Tirotex is a synonym for quality. For the last 5 years, our company, without breaking a good tradition, has become a laureate in this nomination. And this indicates that we continue to confidently keep the bar high. In addition, the authoritative business award "Golden Mercury" confirms the high rating among consumers, as well as the impeccable reputation of our brand in the international textile arena. In this regard, I would like to emphasize that winning the competition is not only a justified reason to continue building up export potential, but also a serious chance to strengthen our position in the foreign market. Today, more than ever, it is important to support those who work, who do not retreat in difficult times. Of course, in this aspect, our company, like no other, still confidently holds the upper bar. And this has become possible thanks to the efforts of those who stand behind our success. These are our employees - workers, specialists, managers. Taking this opportunity, I want to thank all of you for your creative and fruitful work, for the impressive results that you achieve in production every day through your hard work."