company news
TIROTEX PRESENTS A UNIQUE "ETHNO" COLLECTION FOR THE REPUBLIC DAY!
28 August 2020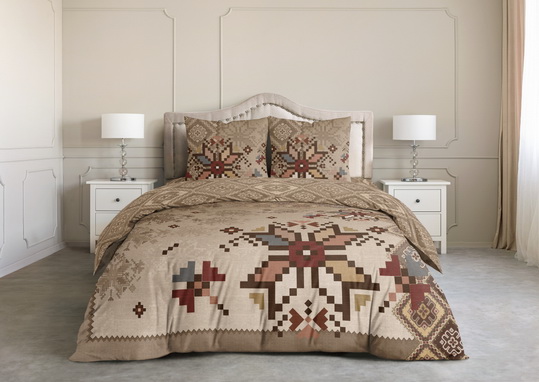 This is a truly valuable gift, since the history of our Motherland is the most real wealth. It is this deep cultural heritage that underlies the design concept of the new textile collection.
It`s not a secret for anyone that Pridnestrovie is a multinational state where different peoples live. Therefore, for the 30th anniversary of the republic, Tirotex has developed a collection of "Ethno" bed linen, which is based on three national motives - Moldovan, Russian and Ukrainian. The distinctive feature of the exclusive collection is ethnic motives rooted deeply in national identity.
For example, the Moldovan collection plays the role of a means of communication between generations. The floristic patterns are organically interwoven with geometric patterns of the "tree of life", which illustrates the life of the human race, where each branch indicates family members. Symbolism dates back to the most ancient times of the Moldovan ethnic group, and now it is reflected in two different designs of bedding sets. The designers used sophisticated modern color palettes to create the collection`s drawings.
At the heart of the artistic solution of the Russian style, which also found its place in the Ethno bedding collection, is a distinctive feature of the techniques of architecture and decorative art. Together they create a peaceful mood and the impression of a wonderful fairy tale.
In Ukrainian folklore, where the names of masters often remain unknown, ornamental motifs have been perfected for a long time, becoming a treasure of collective creative work. And now, after centuries, Tirotex selects the best and plunges the fans of "Ethno" into an irresistible whirlpool of history. The motives used in stylized embroidery reflect the nature around people, favorite plants, as well as national symbols created by the imagination and culture of our ancestors.
Introducing the new collection, the general director of Tirotex, Andrei Mezhinsky, noted: "The idea of the Pridnestrovian self-identity associated with our history inspired us to create Ethno, timed to coincide with the 30th anniversary of our republic. This is a tribute to our ancestors, history and customs. We want to go back to our origins and focus on the spiritual traditions of different peoples, united by one common house - our Pridnestrovie. I am sure we managed to say a new word in the fashion trends of the traditional ethnic style of the textile world".