company news
"TIROTEX" BECAME A LAUREATE OF THE REPUBLICAN COMPETITION
18 January 2021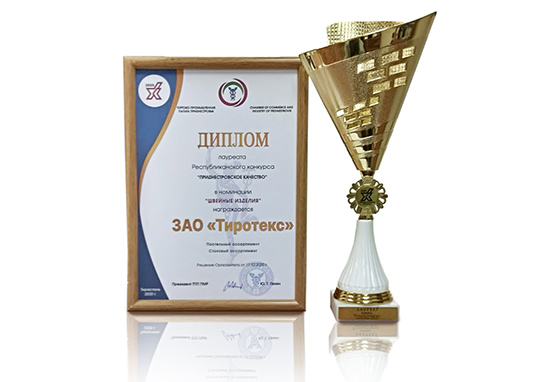 Tirotex Textile Company is a kind of a contemporary of the republican competition "TRANSNISTRIAN QUALITY", since it has been taking part in it annually since 2002 - the moment of its creation by the Chamber of Commerce and Industry of Pridnestrovie together with the ministries of economic development, regional development, agriculture and natural resources, state administrations and certification bodies.
At the end of last year, the company prepared new collections of bed linen and tableware for participation in the competition. Such collections as "Spring Wreath", "Summer Breeze", "Men`s Club", "Ethno" are among of them. A special place is occupied by the collection called "A Nightlong Fairy tale". This is a collection of new children`s patterns which are tremendously loved by our children and are in great demand among customers. The "New Year" collection was presented with new designs for table linen: tablecloths with a water-repellent finish, table sets, napkins, towels.
The Tirotex booth attracted the attention of guests to new fabric structures, including cotonin - cotton with linen, as well as glitter prints and pearl effects, the latest samples of digital printing, ready-made items produced on the new automated line equipped with a device for attaching chips. Potential customers were also interested in the possibility of using "better cotton" in our spinning and weaving mill, as recently Tirotex has become one of the members of BETTER COTTON INITIATIVE.
Summing up the results of the competition and the awarding the laureates took place in January 2021. The work of the textile workers was highly appreciated by the competition committee of the Chamber of Commerce and Industry, and Tirotex once again became the winner of the Transnistrian quality competition. The enterprise was awarded a laureate diploma and a cup.
General Director Andrey Mezhinsky thanked for the high assessment of the professional activity of the entire enterprise and noted: "We always strive to improve and increase production efficiency. Quality has been the foundation for the sustainable development of our company for 47 years. Today, it is not just about the conformity of products to customer requirements, to the quality of incoming raw materials and production of finished products, but also to the quality of management at all levels, including the quality of working place environment and work activities of employees."
The confidence of the head of the enterprise is confirmed by the fact that on the eve of the competition Tirotex successfully passed another inspection audit in accordance with ISO 9001-2015 requirements, which was conducted by an expert of the European certification body.