company news
TIROTEX HAS CONFIRMED AGAIN THE TITLE OF THE BEST MANUFACTURER!
28 June 2021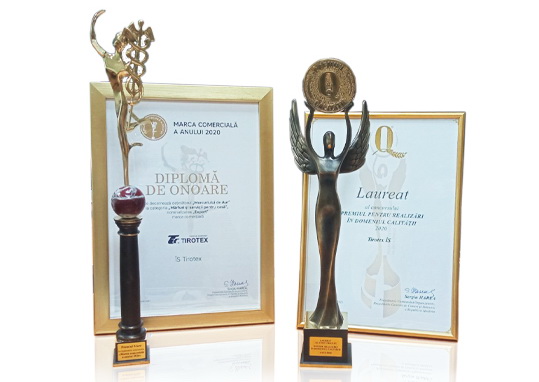 One hundred trademarks - registered participants of the international competition - competed for the title of the best exporter and manufacturer. According to the results of the last year, the professional jury was unanimous in its expert assessment - the Pridnestrovian enterprise is second to none in its effective strategy, achievements in quality and impressive results in the development of foreign markets.
It is not the first year that Tirotex has taken part in the Trademark of the Year competition. The Pridnestrovian manufacturer has repeatedly received prestigious national and international awards. This time was no exception. The day before, a solemn ceremony of awarding the winners of the competition for the Prize for achievements in the field of product and service quality over the past year was held. The Pridnestrovian manufacturer of home and medical textiles again won the Grand Prix - the statuette of "the Goddess of Quality". In addition, Tirotex took the "Golden Mercury" Grand Prix as an exporter in the professional category "Brand of the Year".
According to Andrey Mezhinsky, General Director of Tirotex, this award is a recognition of the quality of products, as well as strengthening of the authority and trust of partners: "We have always attached special importance to this event. This is not only a high assessment of the work done, but also a good incentive for further business improvement. Our strategic goal is to promote our own products to foreign markets. It is pleasant to note that on the part of international experts there is a growing understanding of the high quality of our products, and that the competition committee noted our activation in the export direction."
It should be noted that the recognition received by the winner in an entrepreneurial environment transmits the winners to the rank of reliable and recommended suppliers. In addition, the victory in the annual international competition allows using its emblem to promote Tirotex brand, and this is a good competitive advantage not only in the local market, but also in the international textile arena.
It should be recalled that the Pridnestrovian manufacturer has repeatedly become the winner and was awarded the GRAND PRIX statuette "Golden Mercury" in 2007, 2017, 2018, 2019 in the "Export" nomination. The high quality of products manufactured by Tirotex was awarded with an exclusive "Goddess of Quality" statuette in 2015, 2016, 2017, 2018 and 2019. The impressive result of constant victories in the prestigious competition confirms that the committee is still unanimous in its opinion: Tirotex is a synonym for a reliable supplier and manufacturer of quality products.