company news
EXPERTS OF "TRANSNISTRIAN QUALITY" EVALUATED THE PRODUCTS OF "TIROTEX"
26 November 2021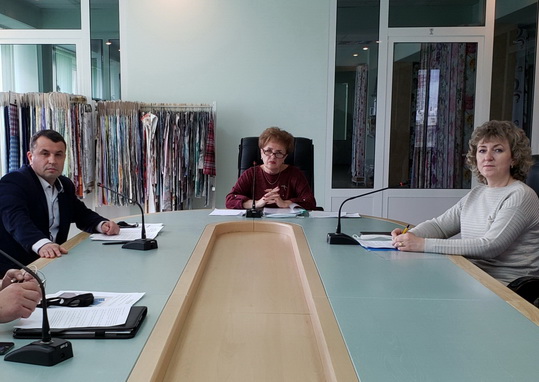 It was the nineteenth time when Tirotex took part in the Republican competition in the category "Non-food products, industrial consumer goods - clothing, garments."
Today, the Contest commission highly appreciated the textile products of the domestic manufacturer. Tirotex presented 4 collections in the category of bed linen. In addition, 3 collections of table linen with water-repellent finishing were introduced. All the presented models were divided into 4 themes according to the color palette and according to the seasons. In addition to the new products, the bestseller of 2021 - the "Perfume" collection - was presented to the experts. These are bed linen with a composition of aromas of essential oils that awaken a whole range of feelings and associations: "Lavender" - with the heady scent of picturesque meadows of Provence, "Rose" - with an emphasis on enchanting beauty, "Coffee" - as a source of inspiration and "Morning fog" - the personification of harmony in nature.
The designers have added a new geometric pattern in two colors to the "Men`s Club" collection: a soft muted Mocha and a rich dark sea wave - Marengo.
The "Creative" youth collection has also been replenished with a new pattern with clear geometry in two colors - "dusty rose" and "complex blue".
The philosophy of the "Air" collection is based on the tenderness of shades and an abundance of light ether.
This year the best seller of the "Buy Pridnestrovian" project - "Your Style" collection - has pleased the customers with three new abstract designs with a combination of gold, white and black. Let us remind you that the buyers appreciated this collection-transformer for being able to "assemble" a set according to their own taste or to purchase additional parts of the set.
Special attention of experts was drawn to the presented novelties in the winter collection. The specialists of the design center put the idea of coziness and comfort in the cold season at the heart of the idea, focusing on the New Year theme in the Scandinavian style. In addition, the experts of the Competition appreciated the attention of Tirotex to children. The collection includes a design printed with luminescent pigment. Thanks to it, the luminous elements of the design have become an ideal solution for the bedroom of a child who is afraid of the dark.
The start of sales of new products presented to the experts of the Republican competition will begin in the retail stores of Tirotex in a week. Let us remind you that this year "Transnistrian Quality" is held for the 19th time. More than 50 enterprises and individual entrepreneurs of the republic take part in it.