company news
TIROTEX HAS BECOME A LAUREATE OF A PROFESSIONAL AWARD AGAIN
24 December 2021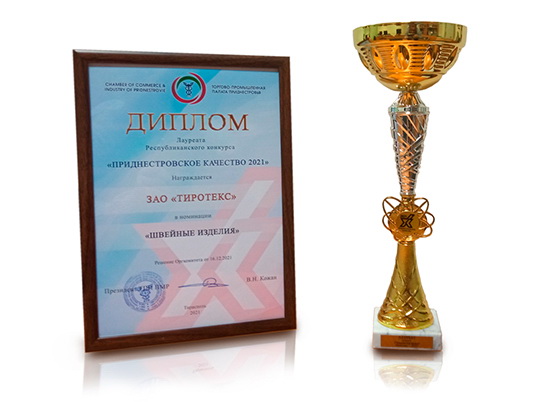 The Chamber of Commerce and Industry of the PMR sums up the results of the Republican Competition - "Transnistrian Quality - 2021". This event is held annually with a purpose to improve the quality of Pridnestrovian goods and services, increasing their competitiveness. A total of 205 goods and services presented by 52 companies were evaluated during the competition. And, what is important, the central place in solving these key tasks is invariably assigned to the largest light industry producer in the Republic. For the 19th time, Tirotex participates in the Competition and the same number of times it becomes a winner in the Industrial Consumer Goods nomination.
This year they introduced a new nomination - "The Best Quality Manager". At the final stage, among the contenders for the prestigious award, the expert community of the commission noted the Chief Technologist of Tirotex, whose responsibility is to search for new opportunities for the development of textile production. During the award ceremony, he was granted a laureate diploma. Thanking for the recognition of his merits, Vladislav Politov noted that his professional growth has become possible thanks to the presence of top-level equipment and the highest quality chemical materials and dyes from the best European manufacturers.
General Director, Andrey Mezhinsky, concluded: "Thanks to such opportunities, the experts of Tirotex can develop modern competitive products that are in demand on the international textile market. In the current economic situation, we need not just textiles, but non-standard solutions, groundbreaking innovations. Realizing this, we focused primarily on the innovative development of our product. We developed and implemented a comprehensive program which allowed us to introduce new technologies. It gives us real competitive advantages, contributes to the expansion of the sales market and significantly increases the range of our products."