company news
TIROTEX REOPENED ITS DOORS TO THE MAGICAL WORLD OF DISNEY
1 February 2022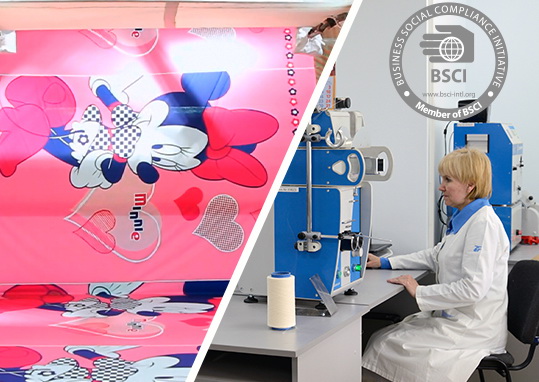 Once again, the Pridnestrovian flagship of the light industry has passed an audit according to the requirements of the American film company, which means it is ready again to meet old friends - Mickey Mouse, The Little Mermaid, Lightning McQueen, Elsa, Rapunzel and many other heroes.
Many Disney characters have been familiar to more than one generation, but what a pleasure it is to return to this world and introduce it to your children and grandchildren. For 15 years now, fans of high-quality textile products of Tirotex have been able to order licensed designs from the world-famous film company at our enterprise. To do this, the textile manufacturer annually undergoes a social audit in accordance with the requirements of the Code of Conduct for Walt Disney Manufacturers.
In addition, the international auditors have given Tirotex the highest grade "A" for compliance with the requirements of the BSCI Code of Business Ethics. This audit has also been carried out at our company since 2007, which is focused on business partners in the European market.
The audits were carried out by experts of the international certification bodies. They conducted a comprehensive audit of compliance with the social conditions necessary for the production of high quality products.
According to Andrey Mezhinsky, General Director of Tirotex: "Today, the company is ready to fulfill unique orders, taking into account the specific requirements of any consumer. And such audits are an excellent form of peer review by a third party. We are always ready to demonstrate to the international community that our enterprise is a modern up-to-date textile complex, which operates stably, introduces new advanced technologies, improves the level of professional training of employees and improves their working conditions."