company news
PRIDNESTROVIAN "TIROTEX" STARTED IMPORTING COTTON FROM AFRICA.
22 February 2022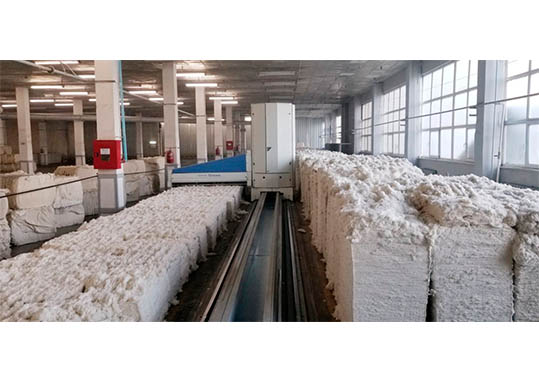 Traditionally, Tirotex has been fruitfully cooperating with cotton suppliers from the countries of Central Asia for many years. According to all technical parameters, such Central Asian cotton is excellent for the production of textile products at Tirotex. These include grade, staple length, tensile strength and many other parameters. However, recently there has been a significant reduction in cultivated lands, which led to a reduction in cotton production, and hence it resulted in the reduction of offers in the Central Asian republics. In connection with the above, Tirotex began to explore the market, searching for additional suppliers of raw materials. Under laboratory conditions, various samples were examined for compliance with the technical parameters required for production. Cotton from West Africa performed well. So, it was decided to purchase African "white gold".
According to Andrey Mezhinsky, General Director of Tirotex, "The reduction in supply of cotton provoked a record increase in cotton prices on the world market. The rise in price by more than 80% has already been noted. Therefore, we were forced to diversify the supply chains of the main raw materials. The search for the cotton meeting the required technical parameters was accompanied by thorough tests in the laboratory of Tirotex. Our research site is equipped with the most modern certified equipment from the Italian manufacturer Mezdan. Therefore, positive testing results did not raise any doubts. So, for the first time in the history of our factory, we began to work with African raw materials. Logistics across the Atlantic Ocean and the Mediterranean Sea is quite difficult, but the raw materials arrived on time and without delay. We have already received the first batch of cotton and will use it in the near future."
The director of the spinning and weaving production, Ivan Damaskin, commented on the results of laboratory tests of African raw materials: "In terms of some quality parameters, African " white gold " is even better than the analogues from Central Asia."
Over the past decade, the price of cotton has risen to its highest level, and the stock price over the past six months has shown an unprovoked skyrocketing of cotton price. Disruptions in the supply chain around the world and an overall increase in costs for almost all raw materials in textile production complicate the situation. However, there is a downside to the coin - the post-pandemic mood of the consumers and their desire to update home textiles, which creates an optimistic forecast for the demand for final products.