company news
TIROTEX LAUNCHED A NEW PRODUCTION LINE
20 May 2022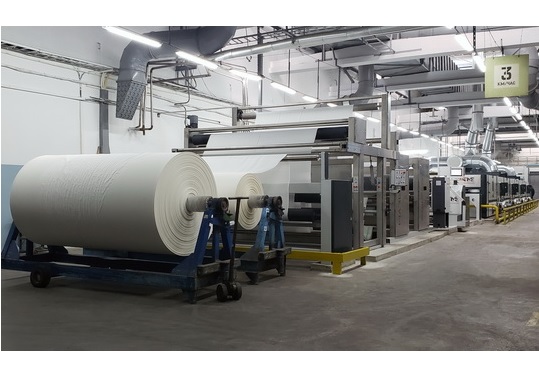 Despite external circumstances, Tirotex continues hewing to the corporate policy: modernization of the equipment, purchasing of modern technological lines are necessary to always remain a competitive company in the international textile arena. Understanding this, the flagship of the light industry of Pridnestrovie focused precisely on supporting innovative development, so Tirotex again announced another acquisition for its equipment fleet - this is a newstenter frame from the Turkish manufacturer Dilmenler.
Andrey Mezhinsky, General Director of Tirotex, said: "The current situation on the market is unpredictable and rapidly changing, so we set ourselves only ambitious goals. And in order to realize them, it is necessary to offer customers a modern trendy product. Such a product cannot be produced on obsolete and physically worn-out equipment. With the support of the investor, it was decided to purchase a new stenter frame. This line will allow to simultaneously expand, dry and impregname fabric with necessary finishing solutions. With a working speed of up to 90 meters per minute, the machine is ready to process monthly up to 1.2 million linear meters of fabric up to 3.20 m wide and ensure a regular production of fabrics in a five-day working week schedule." It should be noted that such fabric, prepared for printing and dyeing, is distinguished by its even width, smooth surface without wrinkles and crinkled edges.
In addition, Andrey Mezhinsky noted a number of advantages of the DMS 22 DIL-TENTER stenter frame: "This stenter frame has a transport chain system without lubrication, which means that we wont have oil splashes and stains on the processed fabric. Since the issue of producing high-quality textile products is always a priority for Tirotex, this system integrated in the line is a huge advantage for the manufacturer. It is worth mentioning that this line is equipped with two additional drying sections, unlike similar equipment from other manufacturers, so the total quantity of drying sections is 8. In addition to the listed technical advantages, I would also note the possibility of reducing costs - thanks to two padders, which are installed on the new machine and are used for impregnation of fabrics, we can perform several operations at the same time: prepare fabric for printing and dyeing and dry it in one passage."
Commenting on the launch of the new line, the CEO noted that this acquisition sets a high level of product quality and production efficiency, which, of course, is appreciated by our permanent European partners.