company news
Another triumph: Tirotex is again the owner of prestigious awards!
17 June 2022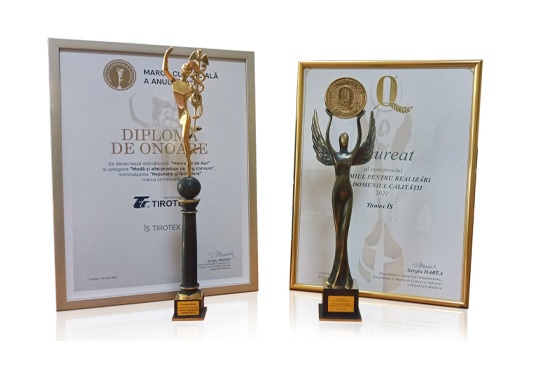 The 19th campaign of «Trademark of the Year» started at the beginning of this year. All contestants competed on an equal footing for the main prize, «Golden Mercury», for half a year. During this time, the expert group analyzed and evaluated all applications from applicants, and at the same time, a consumer survey was conducted.
In addition, applicants also competed for the «Quality Achievement Award» held annually since 2014. This award is given on a competitive basis to enterprises for achieving significant results in the field of product and service quality, ensuring their safety, as well as for implementing highly effective quality management methods. The main prize in this competition is the Grand Prix «Goddess of Quality».
According to the results of the evaluation of the expert jury in the Export nomination, Tirotex, presented in the «Home Goods and Services category», became the winner of the «Trademark of the Year» competition and was again awarded the «Golden Mercury» award. In addition, in the competition for the Prize for achievements in the field of product quality, the Pridnestrovian manufacturer, having scored the maximum number of points, was declared a laureate and awarded the highest professional award of the competition - the Grand Prix «Goddess of Quality».
These are far from the first prestigious awards in the «coin box» of Tirotex. For the sixth year in a row, the textile enterprise has been awarded the «Golden Mercury», and for the eights time it has been awarded the exclusive statuette «Goddess of Quality». «I am sure that the confident victory of Tirotex, which year after year is awarded the highest professional awards in prestigious competitions for achieving significant results in the production of high-quality products and their sale on the international market, is absolutely natural. Behind these awards lies the daily painstaking work of each of our employees. Therefore, it is not surprising that the company s products are known and loved far beyond the borders of Pridnestrovie», Andrey Mezhinsky, General Director, commented the recognition of the company s leadership at the international level.